THEORY YOU: LAUNCHES THE TOPIC OF SELF-MENTORING
"Theory You" addresses the necessities required for success in the two major phases of your career.
In Phase One you are paid for what you can do.
The first twenty-three chapters discuss becoming your own mentor, managing your assets and weaknesses, eliminating emotion and stress from your business life, learning to do more with less, creating a management process for all assignments, making sound decisions, becoming pro-active, managing politics, making great presentations, becoming a problem solver and creating a powerful personal brand image all leading to doing your job at an exceptional level.
In Phase Two of your career you are paid and rewarded for what you can get others to do.
The next twenty-four chapters address the strategy for success at this level. It starts with a review of your strengths that got you promoted, and addresses topics such as consistency, communicating, creating informal teams, creating the right environment, dealing with the more advanced levels of stress and emotion, remaining yourself, managing across borders, becoming a leader, and developing confidence necessary to operate at the upper levels of management.
WHAT THEY ARE SAYING ABOUT THEORY YOU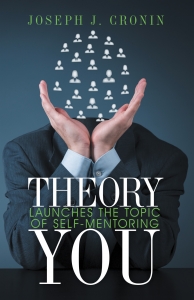 "In this debut how-to-guide, an advertising executive outlines how to manage your career by managing yourself. According to Cronin, who's held top spots at Saatchi & Saatchi and other global advertising agencies self-mentoring is the new reality in today's work world. He divides his slim book into two parts, focusing on how to become a better employee by initiating a personal mentoring process, and how to continue using this method as a manager.
…his practical pointers may be used as springboards for one's own explorations.
A…thought provoking primer on personal accountability for career success." — Kirkus Reviews
" is a breakthrough management guide for success at every step in a career including the corner office.